We feature products that we think will be helpful to you, our readers, and these are selected based on our careful research. As an Amazon Associate, Skintellect Daily earns from qualifying purchases.


I'm sure you have heard of the latest buzzword in the beauty industry – Ayurveda! Although a 5000 years old practice, Ayurvedic skincare has become the new beauty rage only recently in the West. Originating from India, Ayur means life and Veda means knowledge or science in Sanskrit. This traditional form of medicine uses a holistic approach to treatment – balancing the mind, body, soul, and environment. But what makes Ayurveda so powerful is that all the ingredients used in Ayurvedic skincare are edible. Unlike hyaluronic acid serums, they are basically things that you might have in your kitchen right now. But when used in the right way these simple ingredients can do wonders for your skin and body.
The roots of Ayurveda are based on the concept of doshas, energies believed to constitute our mind and body. There are three doshas: Vatta, Pitta, and Kapha. Every dosha has a different skincare and diet regime to suit its requirement. So, it's important to find out your dosha before you start looking for the best Ayurvedic products.
This 5000-year-old practise is now getting a revamp and moving along with the modern times to make products more convenient to use for the new-age millennials (you may have already heard of the Alo Yoga skincare line by now). So, let's check out the 10 impressive Ayurvedic skincare brands that you need to stock up in your cabinets!
1. Pratima
If you are looking for Ayurvedic experts or products, then you are sure to come across the name, Pratima Raichur. This New York-based Ayurvedic expert, chemist, botanist, and naturopath, with 40-years of experience, is the brain behind this well-known Ayurvedic skincare range. Every product of Pratima is 100% natural and handmade by the founder.
The brand's bestseller is the Healing Neem Oil – a personal favorite! This neem-infused oil with other natural ingredients like lavender, sandalwood, and basil, is perfect for all skin types and is the ultimate solution for multiple skin issues like prickly heat, acne, rashes, burns, and more. You may no longer have to search for more maskne products! Also, their Pitta Herbal Cleanser is great for exfoliating and rejuvenating sensitive skin.
2. Uma Oils
Founded by Indian-born and raised Shrankhla Holecek, Uma Oils incorporates all the traditional Ayurvedic knowledge and learnings to create a beautiful range of natural products.
Annoyed by the misappropriations around her about Indian rituals and Ayurveda, Shrankhla decided to create her own line of products with integrity. The ingredients for all her products are grown, harvested, and sourced from a 100-acre meadow in Raipur to ensure superior quality. Some of the best sellers from this Ayurvedic skincare brand include Pure Calm Wellness Oil, Ultimate Brightening Face Oil, and also an Award-Winning Body Oil.
3. Ajara Skincare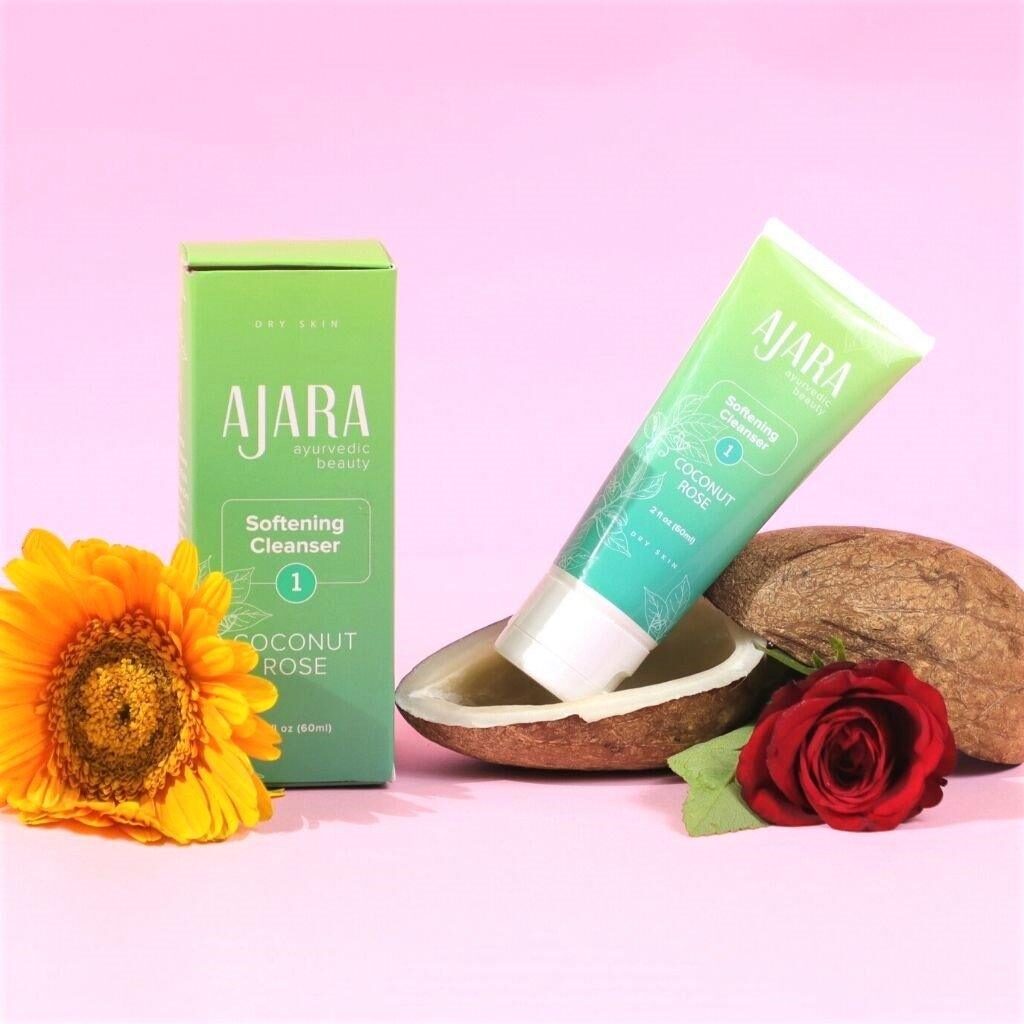 Founded in 2002 by Nicole Hinterstocker, an Ayurvedic practitioner and massage therapist, this Ayurveda skincare brandis ideal for super sensitive skin types. A range that the beauty industry lacks! Their bestseller is the Ajara Rosacea + Sensitive Skin Facial Set, which is a complete package including a cleanser, cleansing cream, repair cream, and soothing oil. You can even check out their Tulsi Mint Tonifying Eye Gel for Puffy Eyes to calm your eyes after a hard day's work.
4. Sahajan
Motherhood makes every mother extremely conscious of the products they use. That's exactly what happened with Sahajan's founder, Lisa Mattam. She started the brand with a simple question, why use a product on your skin that ideally you wouldn't on your child?
Growing up in India, Mattam used coconut oil to nourish her hair and turmeric for all her skin problems. So, she decided to use these local ingredients with the help of leading Ayurvedic doctors to create her own range of products for modern skin issues. And voila, Sahajan was born! Check out this Ayurvedic skincare brand's Discovery Kit, which lets you sample their entire range and makes the perfect travel beauty kit!
5. Skinveda
Created by Shilpi Jain, a cosmetic formulation scientist, who has worked for a longtime in the pharmaceutical industry, this Ayurveda skincare brand creates healing ayurvedic products for the skin. Apart from a wonderful range of products, every month they launch a product of the month. Currently, it is a deep moisturizing and firming crème called the Calendula – Horsechestnut Firming & Moisturizing Creme.
6. Forest Essentials
India's most loved and luxury Ayurvedic beauty brand, Forest Essentials, is founded by Mira Kulkarni. What sets them apart is the fact that they source all their ingredients from the Himalayan forests and grow them organically. They even have a range, especially for mothers and babies. Some of the bestsellers from this brand are the Jasmine &Patchouli Night Treatment Cream, Pure Rose Water Facial Toner, Kashmiri Saffron & Neem Delicate Facial Cleanser, Sandalwood & Orange Peel Facial Moisturizer, and Bhringraj Hair Vitalizer.
7. Ranavat
Inspired by the traditions of Indian Royalty, Ranavat's range of products are made using Ayurvedic family recipes. This brand offers you an opportunity to experience and indulge in your very own royal ritual!
Founded by Michelle Ranavat, their stand-out product is the Radiant Rani Brightening Saffron Serum. Made using saffron, which has a long history as an ingredient used by Indian royals for brightening the skin naturally, this unique product smells amazing and can be the ultimate solution to achieve that radiant and glowing skin.
8. Mauli Rituals
Founded by British natives of Indian descent, Anita and Bittu Kaushal, a husband-wife team, decided to use science-based Ayurvedic principles along with modern British refinement. Mauli Rituals has a complete collection that includesskincare, haircare, bodycare, and daily supplements. Their bestseller and rightly so is the Supreme Skin Face Serum – a combination of 16-collagen boosting botanical ingredients.
9. Rasasara Skinfood
Inspired to create healthier skin products after reading an article called, "If you can't eat it, don't put it in your face," Sonia Lloyd founded Rasasara Skinfood in Melbourne, Australia. The name simply means food for your skin. Her organic and natural products are also created for specific doshas like most Ayurveda skincare brands and also have products that suit all doshas. A 100% cruelty-free, natural, and plant-based skincare range to nourish and pamper your skin.
10. Sundara Holistic
Founded by Kiera Nachman, an Ayurvedic medicine practitioner and Reiki expert based in NYC, the whole range of Sundara Holistic is handmade. What makes this range absolutely amazing is that all their products are made while chanting ancient Vedic mantras that are used in Reiki energy. They have everything from skincare to nutrition consultations. Their specialty product is the Eczema Body Oil.