We feature products that we think will be helpful to you, our readers, and these are selected based on our careful research. As an Amazon Associate, Skintellect Daily earns from qualifying purchases.


When it comes to anything yoga, one brand that immediately comes to mind is Alo Yoga — from Alo Yoga mats, apparel and class subscriptions, yoga practitioners worldwide have come to love their products and services.
As such, it may not come as a surprise that this beloved brand has ventured into the skincare market. The Alo Yoga skincare line, also known as the Alo Glow System, is the brand's most recent offering that features cutting-edge, clean skincare products.
Incorporating Indian ayurvedic skincare ingredients in modern packaging the Alo Yoga skincare line is all part of the brand's overall mission for health and wellness. With the skin being the body's largest organ, it's but proper to take care of it with clean, natural ingredients.
About the Products: Alo Yoga Skincare
Comprising Alo Glow System's skincare line are 7 products, all centred on the popular Ayurvedic ingredient amla.
Also Known as Indian gooseberry, this superfood boasts of a wide range of health benefits which includes its high vitamin C content, giving it promising anti-ageing qualities that have been documented in several clinical studies.
With prices ranging from $24 to $88, the products remain true to Alo's holistic approach, — all botanical-based, vegan, cruelty-free, and made clean in California.
So whether you're looking to add one, a couple, or all 7 of them to your skincare routine, let's get to know more about this revolutionary skincare line:
1. Alo Yoga Enzyme Facial Cleanser: $32
Because you'll want a facial cleanser that gently removes sweat and impurities without harming your skin's natural, protective barrier, your first step in the Alo Glow System should be the Enzyme Facial Cleanser.
Alo Yoga Enzyme Facial Cleanser is a mild yet powerful cleanser that contains nature's most potent botanicals: antioxidant-rich amla super berries, soothing aloe, and brightening pineapple enzymes. This combination makes it the perfect foaming wash for clean, refreshed skin that's healthy & hydrated. Hypoallergenic and perfect for all skin types, you're bound to feel refreshed with its natural bright citrus fragrance that has a tinge of herbal botanicals and vanilla base notes.
2. Alo Yoga Radiance Serum: $88
For an instant brightening effect, turn to the Alo Yoga Radiance Serum to help refine your skin tone and soften fine lines, letting you achieve that dewy, glowing complexion.
Powered by K-beauty fermented ingredients such as Lactobacillus (which soothes the skin while boosting its defences against environmental stressors) and radish root (which helps prevent breakouts), this unscented serum also contains hyaluronic acid to plump skin cells and restore moisture.
With just 2-3 drops, you have a balancing formula that absorbs seamlessly to the skin, brightening its appearance without the sticky feeling.
3. Alo Yoga Luminizing Facial Moisturizer: $48
We'd all like to give our skin that lasting hydration without having to suffer from all that heaviness on our face — and now we can. The Alo Yoga Luminizing Facial Moisturizer is a rich but lightweight moisturiser that doesn't just nourish, but also protects the skin from environmental stressors.
Aside from its antioxidant-rich marula oil and amla super berries, its potent botanicals also include avocado oil and squalene which can stimulate collagen production. And as if that's not enough, your skin also benefits from the nourishing vitamins, proteins and compounds of sweet almond and apricot kernel oil.
All these combined to give you an ultra-effective, unscented moisturizer that leaves your skin feeling ultra-soft, smooth and protected.
4. Alo Yoga Mega-C Body Wash: $24
Reminiscent of its California origins, the Alo Yoga Mega-C Body Wash smells refreshing and seriously amazing, like a sunny citrus grove.
Whether you plan on using this in the morning, evening or after your workout sessions, you can count on Alo Yoga Mega-C Body Wash to cleanse, protect and nourish your skin. Its formulation is powered by the vitamin C-rich amla, and the ultimate skin-soothing combination of aloe vera, avocado oil and marula oil.
5. Alo Yoga Super Fruit Body Lotion: $28
If there's something really super about this lotion is that it works not just to hydrate the skin, but also to soothe fatigued muscles.
The Alo Yoga Super Fruit Body Lotion is enriched with shea and cocoa butter to soften and soothe the skin, while arnica (a daisy-like flower) helps reduce inflammation and relieve joint pains. Botanical oils (avocado, meadowfoam seed, marula, avocado and argan) provide more hydration powers and of course, the skincare line's hero, amla aids in the health and regeneration of new skin cells.
It's a DIY massage treatment that you can give yourself daily, or as needed.
6. Alo Yoga Head-to-Toe Glow Oil: $48
Aptly described as "liquid gold" this ultra-rich, rapid-absorbing elixir is meant to leave your body with a healthy, radiant glow — but why stop there? Your face and hair also deserve to experience its naturally-derived royal benefits.
Made from a powerful combination of botanical oils (argan, jojoba, coconut, castor, borage, meadowfoam seed, and avocado) that hydrate, nourish and protect, the Alo Yoga Head-to-Toe Glow Oil also features seabuckthorn (a shrub that promotes skin elasticity) and moringa (also known as Indian Jujube).
The star ingredient amla is also paired with the calming turmeric for a next-level glow and hydration that you can apply anytime, from head to toe.
7. Alo Yoga Magnesium Reset Spray: $48
Rounding up the Alo Glow System skincare line is the opportunity to reward yourself with better sleep and quick relaxation through the Alo Yoga Magnesium Reset Spray. Dubbed as the "ultimate post-practice hero", this spray is all you need for a blissed-out sleep after an intense workout session.
With magnesium and arnica working to relieve sore muscles, the spray also contains valerian, a medicinal root known to help ease stress and address sleep-related conditions. Meanwhile, turmeric, skullcap, and chinaberry add more anti-inflammatory properties to the spray.
Both your body and mind can heave a big sigh of relief as you inhale the soothing aromatherapy oils as you spritz it on after your workout or just before bed.
Alo Yoga Skincare Review: What the Beauty Magazines and Skin Experts Say
We all know that Alo Yoga has already established itself as a well-loved yoga brand — there's no doubt that an Alo Yoga mat is among the best ones you'll find out there. But with its entry to the skincare niche, and with all the rave about its hero ingredient, let's take it to the beauty experts and see what they have to say regarding the Alo Glow System skincare line.
Kristina Rodulfo, Women's Health.
Like a cucumber iced towel on your skin.
Kristina Rodulfo from Women's Health describes the Alo Yoga Magnesium Reset Spray as the perfect way to cool down after her sweaty HIIT session. The aromatherapy scent reminded her of a spa, so she has decided to spray it on her sore limbs and on her bed for the perfect beauty sleep regimen.
Kristina also has good things to say about the Alo Yoga Radiance Serum — though she was quick to point that it was the priciest product in the skincare line, she described it as a "welcome relief after a workout session when your whole body is burning up". She liked the product's consistency and agreed that she got a confident, radiant glow from this bottle.
Erin Jahns, Who What Wear.
It's Holy-Shit Good.
Erin Jahns of Who What Wear, meanwhile, enlisted the help of the perfect accomplices to try out the Alo Glow System skincare line: her 73-year-old parents!
Her father, Steve, was particularly impressed with the Alo Yoga Luminizing Facial Moisturizer which was unlike any of the facial treatments his daughter (a beauty editor) has ever given him. According to Steve, his skin definitely feels soft, and as if his face is "breathing", but at the same time he felt light, without the greasy, congested sensation he had come to expect from most moisturizers.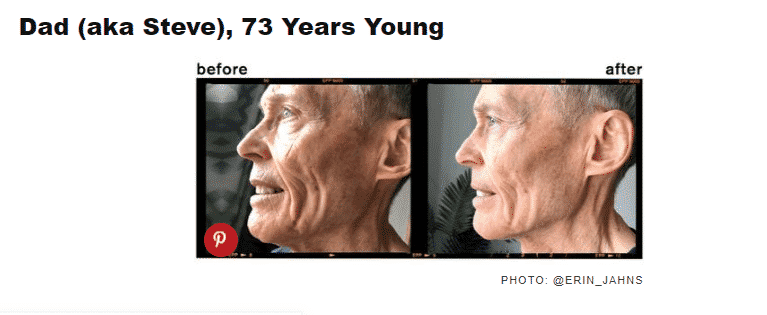 Erin's mother, Elise, on the other hand, loved the Alo Yoga Radiance Serum. She liked how beautifully and easily the product absorbed on her skin. With her skin feeling brighter and smoother, she literally couldn't stop touching her face!
Erin agrees with her and says the serum is something she could use on a regular basis. Nonetheless, her favourite was the Alo Yoga Magnesium Reset Spray — she's obsessed with the immediate relief it gives, especially for her sore neck and back.
Kaitlin Reilly, Sweety High.
Loved It: The Enzyme Facial Cleaner
Meanwhile, Sweety High's Kaitlin Reilly is in love with all 5 products from Alo Yoga's skincare line; she liked the Head-to-Toe Glow Oil but wasn't particularly crazy about the Magnesium Reset Spray (she has particularly sensitive skin).
Though she loved the Alo Yoga Enzyme Facial Cleanser, she cautioned that it's not ideal for removing makeup, especially for those wearing full-face — she suggests pairing it with an initial cleansing step first. She also commented that the $88 price tag of the Radiance Serum ain't cheap, even though it was a joy to apply.
Amanda Ross, Byrdie.
Like Savasana for Your Face.
Byrdie's Amanda Ross reported that she and her boyfriend tried out the Alo Yoga Magnesium Reset Spray (the most intriguing and unusual item in the skincare line for her) and found that it was effective in reducing inflammation, even on ankles ravaged from years of college basketball injuries.
Also according to her, the Alo Yoga Enzyme Facial Cleanser strikes the perfect balance between squeaky clean and properly hydrated skin.
Conclusion
Considering Alo Yoga's cult following, the products in this skin care line are the perfect beauty solutions for those with an active lifestyle — it has a simple, minimalist and functional approach to skincare that remains faithful to the brand ethos. With amla at the heart of the Alo Glow System, the brand is set to blaze a trail in the skincare market.