We feature products that we think will be helpful to you, our readers, and these are selected based on our careful research. As an Amazon Associate, Skintellect Daily earns from qualifying purchases.


Morning skincare means a hydrating lotion that will keep your skin soft, supple, and moisturized all day long. When you get broad-spectrum SPF along with hydration, then nothing like it! That's exactly what CeraVe AM Facial Moisturizing Lotion claims to do for you.
CeraVe AM Facial Moisturizing Lotion with SPF 30 is called a morning skincare multitasker and that's because it helps fight multiple skin problems. Frequently mentioned among the best face moisturizer brands out there, it's formulated with 3 essential ceramides — which are said to lock in all the moisture and repair your skin's protective barrier. Apart from ceramides, it contains ingredients like hyaluronic acid and niacinamide, which are essential in a moisturizer. Plus CeraVe's patented MVE technology helps encapsulate the ceramides and ensure a slow release throughout the day.
CeraVe comes with a non-comedogenic guarantee, which means it won't clog your pores and is ideal for all skin types.
With so many amazing ingredients and skin repair claims, today we decided to review the CeraVe AM Facial Moisturizing Lotion for you. So, here is a complete breakdown of the morning skincare essential – from key ingredients, brand details, value for money, and reviews from major beauty influencers that will help you decide if this CeraVe AM Facial Moisturizing Lotion should be in your morning skincare routine!
The CeraVe Skincare Brand
CeraVe is the #1 dermatologist-recommended skincare brand. Established in 2005, their entire line of skincare products is developed along with dermatologists and contains three essential ceramides that are almost identical to those found in your skin. Ceramides are critical to restore your skin's natural lipid levels and keep them healthy.
Ceramides combined with a revolutionary delivery system called MultiVesicular Emulsion Technology (MVE) is what CeraVe products are all about. This patented technology is also what sets CeraVe apart from the rest of the skincare brands. The MVE technology slowly releases the ceramide-enriched formula over a period of time to restore your skin's barrier and help lock in the moisture.
The CeraVe AM Facial Moisturizing Lotion is also packed with these 3 ceramides and the MVE technology. This moisturizer also comes with Broad Spectrum sunscreen with SPF 30 that contains the InVisibleZinc™ Technology that ensures that the sunscreen spreads evenly and smoothly without leaving behind a cakey or chalky residue on your skin.
CeraVe AM Facial Moisturizing Lotion – Texture, Feel, and Application
The CeraVe AM Facial Moisturizing Lotion has a thick texture but feels thick to touch even after it dries down. This sometimes leaves a white cast on some skin types and is something that can bother you.
Simply pump a dime-sized amount and massage it on your face evenly. You might want to focus and cover your forehead, chin, cheeks, and neck as an added SPF protection is always better.
If you are relying on this moisturizer as your only sunscreen protection, you might want to use it a little more and apply it more evenly. But if you prefer using your preferred sunscreen, then use it first and then follow it up with this moisturizer.
It takes a while to absorb unlike regular moisturizers in the same category and that's why you will have to really massage it in to make sure it is fully absorbed.
CeraVe AM Facial Moisturizing Lotion: the Key Ingredients
The CeraVe AM Facial Moisturizer comes with some amazing ingredients that help hydrate and restore the skin's barrier. It's been said that it's also one of the best moisturizer for acne prone skin. Some of the key ingredients are:
Ceramides – They are basically lipids that are present in your skin and are essential for restoring and maintaining your skin's natural barrier.
Hyaluronic Acid – This is the hydrant you need for your skin! It helps retain and lock in the skin's natural moisture and is considered a holy grail in the skincare routine.
Niacinamide – It is known to soothe and calm the skin and is especially beneficial for anyone with sensitive or eczema skin.
CeraVe AM Facial Moisturizing Lotion Reviews
What are fashion magazines and beauty bloggers saying about the CeraVe ultra-light moisturizing lotion?
Here is a summary of what the industry experts are saying about the CeraVe AM Facial Moisturizer to help you make an informed decision.
Ashley Rebecca, Byrdie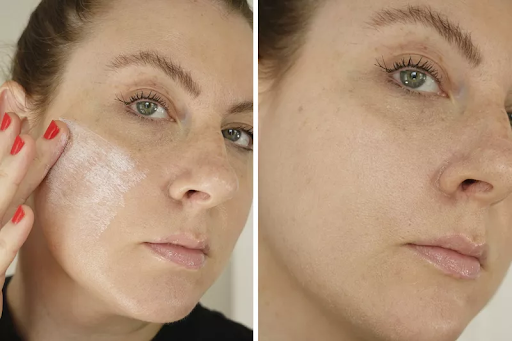 If you're looking for a basic moisturizer that addresses hydration concerns and also contains SPF, CeraVe's AM Facial Moisturizing Lotion with Sunscreen is an easy, affordable option for anyone needing a two-in-one skincare product that offers suitable protection from harmful UV and UVB rays.
Ashley from Byrdie says that the CeraVe AM Facial Moisturizing Lotion is a great option for anyone who is looking for a budget-friendly skincare product that works as both a moisturizer and sunscreen.
However, she feels this product is more suited when going for outdoor activities like hiking, to the beach, or pool because it is difficult to apply makeup on it. She wouldn't recommend it for everyday use.
Paris B, My Women Stuff
"The texture might feel heavy to some, especially those with oilier skin types, but try the 13-dot technique which might help distribute the product more evenly.
Paris B from My Women Stuff writes that this is by far the most amazing moisturizer that she has come across in this price range. Effective, affordable, and amazing.
For Paris, the CeraVe Facial Moisturizing Lotion is an affordable moisturizer that is very effective in helping skin strengthen and restore skin barrier functions, and to keep skin calm while providing moisture. She reports that the product is very portable and works even for dry skin (in hot tropical weather).
What she loves about it is that it is not fragranced —the CeraVe Facial Moisturizing Lotion keeps her skin moisturized and is not heavy in silicone. After using the product her skin now looks and feels less dry, stronger, more even-toned, and less flushed with heat. For her, it is a great little product that she intends to keep in her skincare cupboard for good.
Mary Honkus, Skincare.com
I first tried the AM Facial Moisturizing Lotion three weeks ago and since then, my morning skincare routine is not complete until I apply this lotion. I'm glad I gave my search one last try — the best was saved for last!
Mary of skincare.com feels the CeraVe Facial Moisturizing Lotion has completely transformed her summer skincare routine. It made her skin supple, hydrated, and glowing. She notes that the creamy texture resembles more of a sunscreen than a moisturizer.
Nonetheless, it melted right into her skin without any white cast and left me looking glowy instead of shiny like most sunscreens do. According to her, her skin felt supple and hydrated throughout the day, even with a full face of makeup on top.
What the Internet Says
For a more honest and comprehensive review, we've scoured the internet to learn what people have to say regarding the CeraVe AM Facial Moisturizing Lotion with SPF. Here's what we've found on Reddit and Twitter.
The Believers:
95% of people say that they absolutely love it!
90% of people find it superlight and say that it glides super easily.
80% love the texture and find it very suitable for their skin.
The Naysayers:
35% of people say that it gives them pills and spreads badly and hence wouldn't recommend it.
2% feel the smell is not great and would prefer something milder.
Should you go for the CeraVe AM Facial Moisturizing Lotion?
The CeraVe AM Facial Moisturizing Lotion may be worth a try because of its science-backed formulation and budget-friendly price point. With divided opinions about the product's texture, this may be something you'll have to determine for your skin.
Nonetheless, the ceramides make this lotion a great addition to your morning skincare routine while the SPF acts as a perfect bonus!
Check out our other articles to learn more about your options for best Korean moisturizer for dry skin and best tinted moisturizer for dry skin.
Not so sure about the texture
Many people are a fan of the texture, but others say it can cause pilling.
Affordable price
No-nonesense key ingredients
SPF component
Mixed reviews about the texture
Strong scent