We feature products that we think will be helpful to you, our readers, and these are selected based on our careful research. As an Amazon Associate, Skintellect Daily earns from qualifying purchases.


We're crazy about moisturizers that provide us with more than simply hydration. And of course, the more advantages there are, the better!
If you haven't heard about it yet, the La Roche-Posay Toleriane Double Repair Moisturizer gives you just that and more. This La Roche Posay moisturizer, in particular, is formulated to help repair your skin whilst hydrating it.
Many say it's one of the best face moisturizer options out there. It could be primarily because of its lightweight texture that's easily absorbed by the skin —providing immediate comfort. It's also suitable for all skin types and is good even for those with sensitive skin.
La Roche Posay: The Brand
One of the most trusted brands of dermatologists, La Roche Posay creates cleansing and moisturizing skincare products that have very minimal ingredients so that they won't be too much for the skin.
The company has partnered with dermatologists worldwide to create formulas that your skin deserves. As such, La Roche Posay skincare products are developed according to a strict formulation charter to combine maximum efficacy with optimal tolerance.
La Roche Posay Double Repair Moisturizer: How It Works
We have all been looking for the perfect daily moisturizer, and the La Roche Posay Double Repair Moisturizer could just be very well the one we have been looking for. Basically, it gives us most of the benefits we need from a moisturizer and more!
This La Roche Posay moisturizer repairs our skin while keeping it hydrated throughout the day. It helps brighten the skin while moisturizing it over time.
La Roche Posay Double Repair Moisturizer: The Key Ingredients
This amazing La Roche Posay Double Repair Moisturizer contains niacinamide, which is a great anti-acne ingredient. It helps lessen marks and blemishes, giving you that glow over time. Niacinamide also works as a cell-communicating and skin-lightening ingredient, which means you will have brighter skin with continued use.
The La Roche Posay Double Repair Moisturizer, also has tocopherol, an antioxidant that helps your skin fight against collagen-damaging free radicals. And of course, let us not forget glycerin, which will maintain the hydration of your skin.
How to Use the La Roche Posay Double Repair Moisturizer
It's quite straightforward to use the La Roche Posay Double Repair Moisturizer. After cleansing your face (some even do the double cleansing method), simply dispense a dime-sized amount of the product into your hands, rub them together and lightly pat it on the face.
You can also use the La Roche Posay Double Repair Moisturizer after layering some products on your face.
La Roche Posay Double Repair Moisturizer: Reviews
What Beauty Bloggers and Beauty Magazines Say
You don't need to search the internet for reviews about the La Roche Posay Double Repair Moisturizer, because we have already done that for you. Here are a couple of reviews from bloggers, health sites, and beauty magazines summarized for you:
Ashley Rebecca, Byrdie
My skin felt great continuously throughout the day, and I also used this moisturizer at night with stronger anti-aging products and it kept my skin nourished and I glowed upon waking the next morning.
For NYC makeup artist Ashley Rebecca of Byrdie, moisturizing is a very important part of any skincare and makeup routine, especially that suits your skin and skin needs best. This is why she tried out the La Roche Posay Double Repair Moisturizer.
She has combination sensitive skin, which means some parts are dry and others, oily. And there are times when her skin reacts to skincare products that are too strong or have a lot of fragrance. She says she takes her skincare routine pretty seriously, and that she is focused on anti-aging, hydration, and texture to name a few.
Ashley was most impressed that no matter what she was using or wearing, the La Roche Posay Double Repair Face Moisturizer held up to its promise of immediately restoring the feeling of skin comfort.
She says for everything you get at a very budget-friendly price point, the La Roche Posay Double Repair Moisturizer is well worth the cost to purchase and add to your daily skincare regimen.
Insider, Abigail Barr
I was immediately sold when I saw all the benefits: hydrating ingredients, no synthetic fragrances or parabens, and suitable for sensitive skin.
According to Abigail of Insider, this moisturizer does not contain synthetic fragrances, parabens, or oil so it does not irritate her sensitive skin. She's very happy with the price point of the La Roche Posay Double Repair Moisturizer, as she knows that moisturizers with powerful ingredients that actually improve skin's health can be pricey, but this one only costs about US$20.
She has a combination skin that is prone to acne and redness (very sensitive), so it's pretty hard for her to find skincare products that won't irritate her skin even more.
As a skincare expert, she knows how to look out for certain ingredients in a moisturizer — like niacinamide, ceramides, and hyaluronic acid. These are such powerhouse ingredients that hydrate, strengthen, and repair skin. Understandably, some moisturizers containing these ingredients can get crazy expensive. At times, they're formulated with other irritating ingredients like synthetic fragrances, which makes it even worse for those with sensitive skin like her.
Abigail says that over time, she noticed that her skin felt moisturized and not tight. Most importantly, her skin hasn't felt itchy, blotchy, and wasn't red, and her acne has not gotten worse after using the La Roche Posay Double Repair Moisturizer.
Jamey Powell, Healthline
This is far and away one of the brand's most popular products, and after using it regularly I can see why.
From their compilation of other reviews for the La Roche Posay Toleriane Double Repair Face Moisturizer, Jamey saw mostly positive reviews. In the Healthline article, Jamey mentioned that even though it's definitely a thicker moisturizer, it has a silky smooth texture that melts into the skin without feeling sticky or thick.
Those interviewed mentioned the product is great for sensitive skin, one even dubbed it as the "fancier version of CeraVe". Jamey admits though that the $20 price point might be more than some people would like to chalk up for a moisturizer, but says that a little dime-sized squeeze goes a long way.
Jenny, Geeky Posh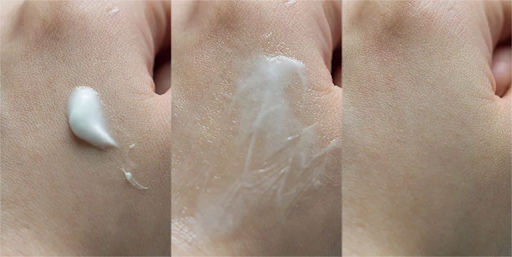 In the long run I haven't noticed any specific improvements in my skin other compared to other moisturizers I've used in the past. I suspect that while this does contain ceramide and niacinamide, it might not contain enough for them to make a big enough impact.
Meanwhile, Jenny of Geeky Posh is a little bit hesitant to recommend this to those with sensitive skin because of some ingredients. She also thinks this product is slightly overpriced and that there are better alternatives (even from La Roche-Posay) if you're looking for a great moisturizer.
Jenny acknowledges though that this moisturizer absorbs very quickly and doesn't feel sticky or heavy at all on the skin. Leaving almost a matte finish, it lets her skin feel hydrated, but it's a very light layer of hydration. She says it's great for normal, combination, and oily skin, but it won't be enough for those with dry skin.
What the Internet Says
Aside from Beauty Bloggers and Online Beauty and Skincare Magazines, we've found more opinions about the La Roche Posay Double Repair Moisturizer through Reddit and Twitter. Here's what people are saying:
The Believers:
82% gave the La Roche Posay Double Repair Moisturizer, two thumbs up and agreed that the product was pretty good
67% believes that the price of this La Roche Posay Moisturizer is totally worth it and that they will definitely repurchase
45% loved the texture of the La Roche Posay Double Repair Moisturizer
22% loved the fact that the product is fragrance and paraben-free and does not irritate their sensitive skin
7% enjoyed the other benefits of the La Roche Posay Double Repair Moisturizer, like giving them brighter, more glowing skin
The Naysayers:
2% still experienced some type of adverse reaction such as breakout from using the La Roche Posay Double Repair Moisturizer
1% said that the La Roche Posay Double Repair Moisturizer did not give enough hydrating benefits for their skin
Choose to be Double Moisturized
We know that you have so many moisturizer choices in the market today, it could be a good idea to try out the La Roche Posay Double Repair Moisturizer.
While the price point may be on the steep side it may be one of the best moisturizer for sensitive skin. And with all the wonderful ingredients, we think that using it religiously will benefit your skin greatly.
Want more options? Check out our other lists for the sensitive skin type:
A Gift for Sensitive Skin
Most reviews (but not all) say that the product is good for sensitive skin, which may be a precious find.
Silky texture
Good for sensitive skin
Hydrating ingredients
Price point a bit higher than most moisturisers