We feature products that we think will be helpful to you, our readers, and these are selected based on our careful research. As an Amazon Associate, Skintellect Daily earns from qualifying purchases.


It takes discipline to build a daily skincare routine. Whether you've incorporated several skincare products in your beauty regimen or have opted for a more basic skincare routine, what's important is that you keep doing it on a regular basis.
But regardless of whether you observe a morning or a nightly skincare routine (or both), there may be times wherein you wish you could just skip a particular skincare step (or two!) and move on along with your day. With an endless list of things to do, even the most disciplined of us may have given in to that temptation.
In order to avoid this, we'll need to work smarter, not harder. Even in skincare, there are tools that we can rely on to make our beauty regime easier and more effective.
With these 4 new beauty devices from Osim, even a simple skincare routine can go a long way and deliver results. Known for its massage chairs, this wellness brand has transitioned over to the beauty niche with the same thoughtfulness and quality its products have been known for.
As such, these Osim beauty devices are more than your average facial massage tools — they form an essential 4-step beauty routine for healthy glowing skin.
1. The OSIM uGlow Cleanse
The first step in a proper skincare routine is cleansing. For cleaner skin, OSIM uGlow Cleanse allows you to thoroughly and gently wash away all dirt and oil to unclog your pores.
Its thicker silicone bristles help target the oilier T-zone area while the finer bristles work well for the rest of the face. Meanwhile, its GlowSonic Cleanse Technology deeply cleanses your pores — with 6000 pulses per minute, you're sure to wash away oil and makeup residue.
For brighter skin and smoother skin, you have the LED Light Therapy to use after your skincare routine. Depending on the colour you choose (red, blue or yellow), it can help stimulate collagen production, reduce oil and inflammation or reduce melanin production.
Furthermore, the chrome-finish ball emits warmth to soothe and relax tense facial muscles while it opens up pores to aid skincare absorption.
2. The Osim uGlow IonCare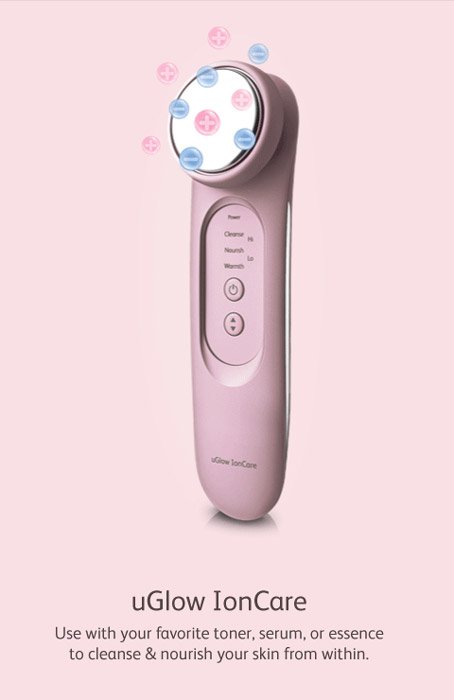 If you want to take cleansing further, the OSIM uGlow IonCare helps you to cleanse your skin from within. Aside from this, it boosts skincare product absorption and relaxes all those tensed facial muscles — allowing you to achieve skin that is glowing from the inside out.
Its Galvanic IonCare Technology makes it an effective Cleanse & Nourish Program. By emitting positive ions and pulsing micro-vibration, this beauty device can draw out negatively-charged skin deep impurities. On the other hand, by emitting negative ions with micro-vibration, it pushes skincare products into deeper skin layers, allowing for better absorption and maximising their effects.
3. The Osim uGlow Eye
One common problem area for most of us is the undereye — with concerns such as eye bags, wrinkles and fine lines, and dark eye circles, it just makes sense to spend give our eyes a little more TLC during our daily skincare routine.
Osim uGlow Eye uses Sonic Vibration Technology to help us restore the youth in our eyes. With more than 8000 pulses per minute, this beauty device simulates micro-tapping motions that promote eye cream absorption while its LED Light Therapy Technology helps reduce fine lines. It has an adjustable warmth, so you can decide on a temperature to soothe tired eyes and improve blood circulation, or to give yourself a temple massage to alleviate tension headaches.
4. The Osim uGlow Mist
Last but not the least, it's time to give your skin the extra hydration it needs and restore skin radiance with this beauty device. The OSIM uGlow Mist uses Ultrasonic Mist technology to increase skin moisture levels helping you to prevent signs of premature ageing caused by dry, dehydrated skin.
The best thing about it is that it's a portable facial humidifier, so whether you're out in dry weather or inside an air-conditioned room, the OSIM uGlow Mist can instantly deliver an immediate boost of hydration whenever you need it.
In addition, it functions as an emergency portable charger (to give your uGlow products and your mobile devices a quick battery boost) and a compact mirror. What more can you ask for in a beauty device?
Build Your Own Skincare Routine
With these beauty devices from Osim, you can look forward to a daily skincare routine that is both simple and effective. There's no more need for complicated facial massage tools nor countless beauty products. Whether you have a night or morning skincare routine, the 4-step uGlow Beauty Series works well with your beauty regimen to maximize your skincare product effects.